8th September
Windsor was the focus of the world in 2018, playing host to two Royal weddings.
This is a unique chance to experience a 'behind the ropes' showround of the castle during a private visit to the State Apartments at Windsor Castle with an expert guide, after the castle has closed to the public.
We will take you on a journey through 1,000 years of royal history starting when the building is closed to the public. You discover how William the Conqueror's wooden castle was rebuilt by Edward III as a stone fortress with magnificent apartments, how Charles II set out to rival the Versailles of his cousin Louis XIV, while George IV filled the rooms with outstanding works of art and gave the Castle its famous skyline.
Your showround will end with a glass of Champagne before we take you back to your hotel.
Situated just five minutes walk from Windsor Castle is your base for the event at the Sir Christopher Wren Hotel. It has the perfect location overlooking the river in this historic town.
The 4-star hotel comprises several characterful buildings clustered around a historic cobbled street. The Wren Club offers a gym, spa treatments, outdoor jacuzzi and sauna.
You will stay in Executive Double rooms with breakfast included.
After dinner retires to the bar or enjoy a peaceful night's rest in your classic room.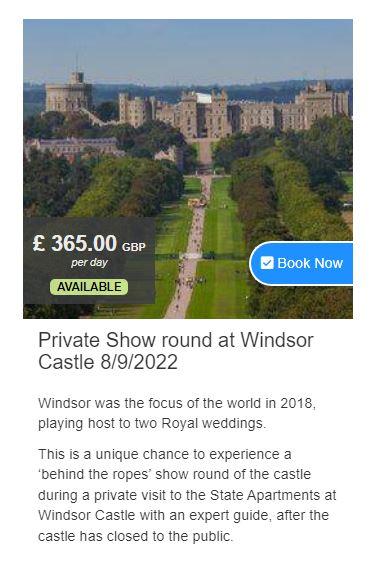 Provisional timings:
8th September
from 3pm Check-in at the Sir Christopher Wren Hotel
5.45pm Guests gather in reception for the short walk to the Castle
6.00pm Private showround of Castle ending with a glass of champagne
8.15pm Return to the hotel for a drinks and canape reception
8.45pm Dinner is served
11.00pm Dinner concludes
9th September
From 7am
To 10am Breakfast is served
11.00am Check-out
Your Windsor package includes:
Private Showround of Windsor Castle State Apartments, after it has closed to the public
Glass of Champagne at the end of the showround
Souvenir Guide Book
Drinks and Canape Reception
Three-course dinner with accompanying wines at the Sir Christopher Wren Hotel
Tea and Coffee
Overnight accommodation in an Executive double room at the Sir Christopher Wren Hotel , with breakfast (based on two people sharing a twin/double room)
Oliver Myles Event Managers to assist you
Package
Price
Windsor Package(based on two people sharing)
£365
Additional night's accommodation – per room per night
£130
Single Supplement
£65
Upgrades available to Club Rooms
£20
All Prices are per person + VAT