A Black Tie Gala dinner on board the ​Royal Yacht Britannia ​
​The perfect start to Christmas ​
An exclusive evening of fine dining and music on board the Royal Yacht Britannia with overnight stay at the 5* Balmoral Hotel.​
This is a wonderful way to get in the festive mood as you relive the elegance of a bygone era with the splendour that is the Royal Yacht Britannia. This will be a musical and gastronomic evening to remember.​
​A Black-Tie evening of music and fine dining in the State Dining Room on board the Royal Yacht Britannia, the kind of entertainment and fine dining such as the numerous Royal family members and heads of state would have enjoyed. ​
​Just 48 couples will be invited to enjoy a private viewing of the Royal Yacht and enjoy a sumptuous 4-course meal whilst being delightfully entertained.​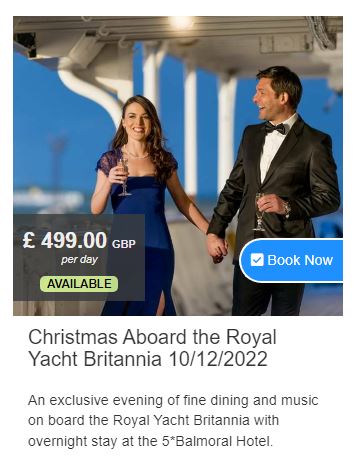 With exclusive use of The Royal Yacht, guests will find the same high standards today as when Britannia was in Royal service. The evening will start with a red-carpet welcome followed by Champagne and canapés in the ship's drawing-room whilst you are entertained by the resident pianist. ​
​Then enjoy a guided tour, where you will have access to Britannia's five decks, and a unique insight into the history of the Royal Yacht and how the Royal Family and crew lived and worked on board. ​
​The sense of occasion builds as dinner is announced. The grand mahogany doors are opened to reveal the magnificent candlelit State Dining Room. Using the finest, seasonal ingredients, our menus are created in the original Royal Galley and served by Britannia's expert butlers. You will then indulge in a delicious four-course dinner such as Her Majesty the Queen would have enjoyed. ​
The Balmoral ​
5* Elegance ​
​A prestigious address, famous for its timeless elegance and glamour the Balmoral is a five-star hotel in the heart of Edinburgh. Located on Princes Street it is in the perfect location to pop out for a spot of Christmas shopping. This imposing Victorian Railway Hotel is a landmark in its own right.​
​The award-winning spa features five treatment rooms, a relaxation suite, 15m indoor pool as well as a Finnish Sauna. ​
​The Executive rooms are decorated to reflect a traditional Scottish style. ​
​We can arrange additional nights accommodation to turn this into a longer break or upgrades to rooms if you wish.
Christmas Aboard the Royal Yacht Britannia includes:
Guided showround of the Britannia​
Transfers to and from Britannia to the centrally located Balmoral Hotel ​
A superb four course dinner with accompanying wines on board​
Champagne & Christmas canapés by the grand piano​
Entertainment between courses​
Souvenir menus​
One night's accommodation, including Scottish breakfast at the 5-star Balmoral Hotel ( additional nights can be added)​
Event managers to look after you throughout the evening.​
Price per person £499 + vat pp